Server Information
FoldDesign is a fragment-based approach to de novo protein scaffold design. Starting from the desired secondary structure and any user-defined contact or distance restraints, FoldDesign first identifies 1-20 residue fragments from the PDB that match the desired secondary structure. Following fragment generation, REMC simulations guided by a sequence-independent energy function are used to construct designable scaffolds that match the input constraints. Finally, the generated structure decoys are clustered and the final designs are selected from the lowest energy structures and largest cluster centers, where further atomic refinement and sequence design is then carried out on the selected designs. Please report your questions to the Service System Discussion Board
Program Description: Overview of the FoldDesign pipeline. Starting from a user-defined secondary structure topology as well as any further design constraints such as inter-residue contacts or distances, FoldDesign identifies 1-20 residue structural fragments from the PDB with secondary structures that match the input constraints. Then these fragments are assembled together along with 10 other conformational movements during the replica-exchange Monte Carlo folding simulations under the guidance of a sequence-independent energy function that accounts for the fundamental forces that underlie protein folding. The lowest structure produced during the folding simulations is selected for further refinement to produce the final designed structure.
Input
The FoldDesign server takes as input the desired 3-state secondary structure, as well as an email address to inform a user when their job has finished running. Additionally, you may specify inter-residue contact or distance restraints.
Output
The output of the server consists of:

(a) The final designed structures, where a download link is provided underneath the graphic. Designs are selected from the lowest energy designs as well as the largest cluster center. Additionally, users may download all structures generated during the FoldDesign simulations.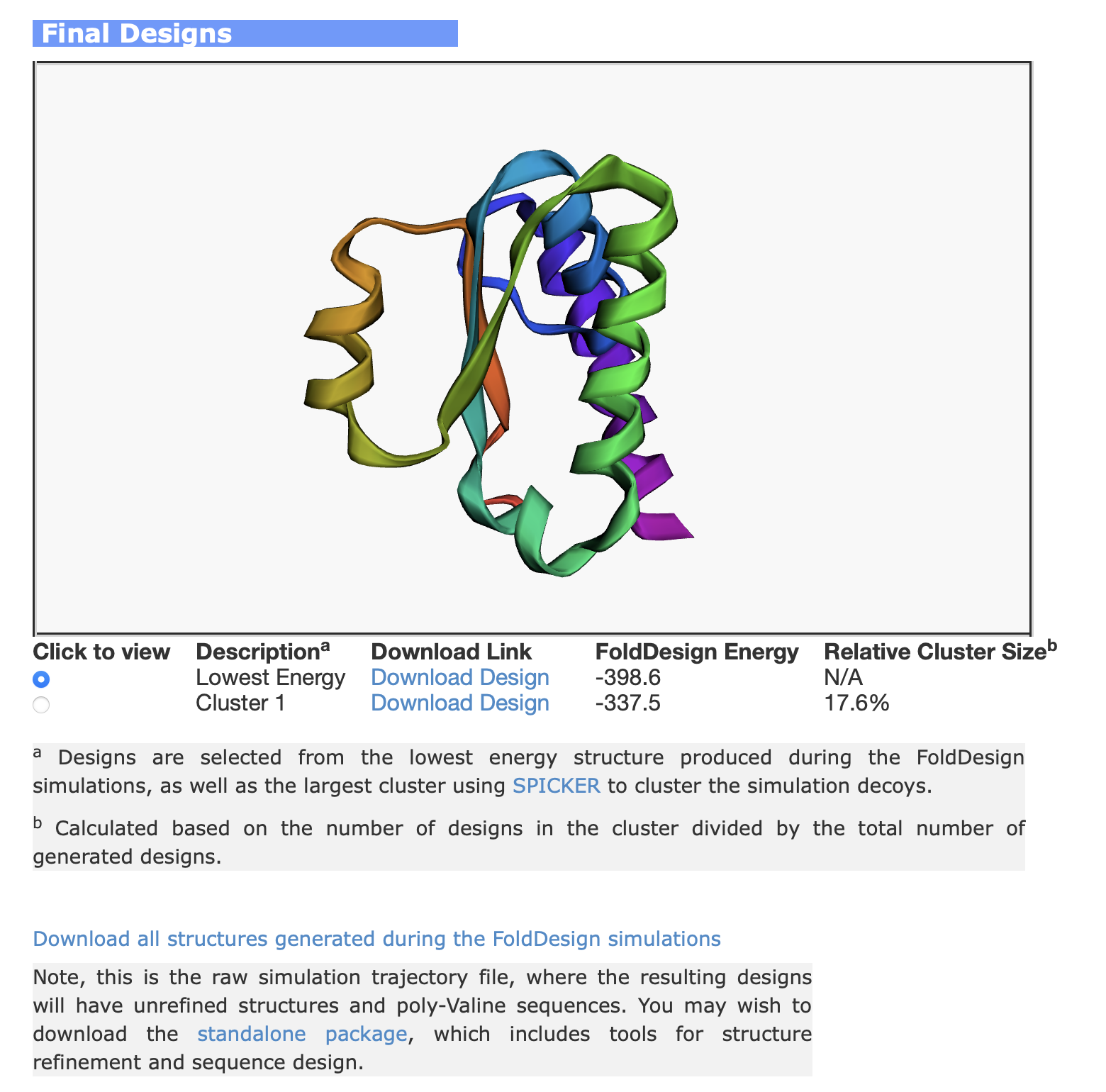 (b) The input secondary structure.